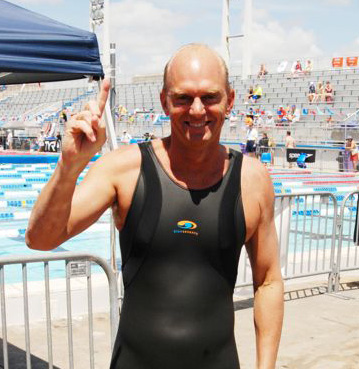 Those were the days!
The title of this post pretty much sums it up. With the decision to allow Speedo's FS3 "System" in NCAA competition this coming year, college swimming is right back in the same situation a majority of us were complaining about in 2009. So, like many coaches, I'm left scratching my head. How did we not see this coming? Why didn't we learn our lesson? And why do so few people seem to care this time around?
First of all, I will say that many saw this coming. When the swimming establishment rose up in 2009 to banish the new generation of bodysuits from the sport, it was a polarizing issue for swimming. On the one side, you had swimming "purists". These were the people who had the most power in the system before the dramatic change in the competitive landscape that year. They naturally wanted to remain in a position where they were the most powerful coaches/swimmers/journalists/swimsuit company/"coaches organization" leader in swimming. They fought tooth and nail to roll suit technology back, and they were successful. There was something decidedly unfair about it. The best analog I ever heard, from someone working at a non-Speedo suit company, was that it was as if you were playing chess against somebody, only after they started losing they decided that pawns could move like queens and that queens were useless. All sorts of reasons were trumped up for casting out the "suits": they cost too much, they are unfair, they are ruining the history of our sport. None of them were true and all are being ignored now.
Another group (that I consider myself a part of) saw something far more exciting. New people were winning, coaches were innovating under the new rules and thriving. The sport was ripe for change, interest was high, and meets were more exciting because the suits mitigated the effect of tired swimmers racing. There was also far more variability where there had been almost none. I swam in college from 2003-2006 and saw nary a non-speedo racing suit at the end of the year. In 2009, I saw blueseventy, rocket science, arena, jaked, all at smaller level US competitions.
In any case, we all know what happened. We went "back" to a suit rule that never existed, arbitrarily cutting women's suits off at the knees and men's from hips to knees. For a while, pretty much every manufacturer had the exact same suit. It took Speedo more than a year to recover from being completely outflanked by their smaller competiton, but in 2011 (alongside some crazy marketing), they released a suit that has reignited my worst fears on this particular issue. All of a sudden, their suit is the "must have" for the coming championship season. Supply issues will no doubt abound, and Speedo is already charging far more for the "system" than a good old poly body suit cost back in the day.
College coaches tried to avert this very situation back in 2009. In the spring of 2009, we (members of the College Swim Coaches Association of America) moved to recommend that the NCAA formally change it's rules to prevent new suits from coming onto the market mid season and be allowed in NCAA competition. This did not happen. There was still some hope and precedent- in 2008 LZRs had not been allowed at the NCAA Championships. However, there was no such ruling this time around.
I'm complaining as one of the "haves". It is likely that my team will have far fewer issues than many outfitting their squads for the end of the year. Do we really feel we're in a better place with this issue than in 2009? I don't think so, but so far the outcry has been muted.